All on 4 Technique for Dental Implants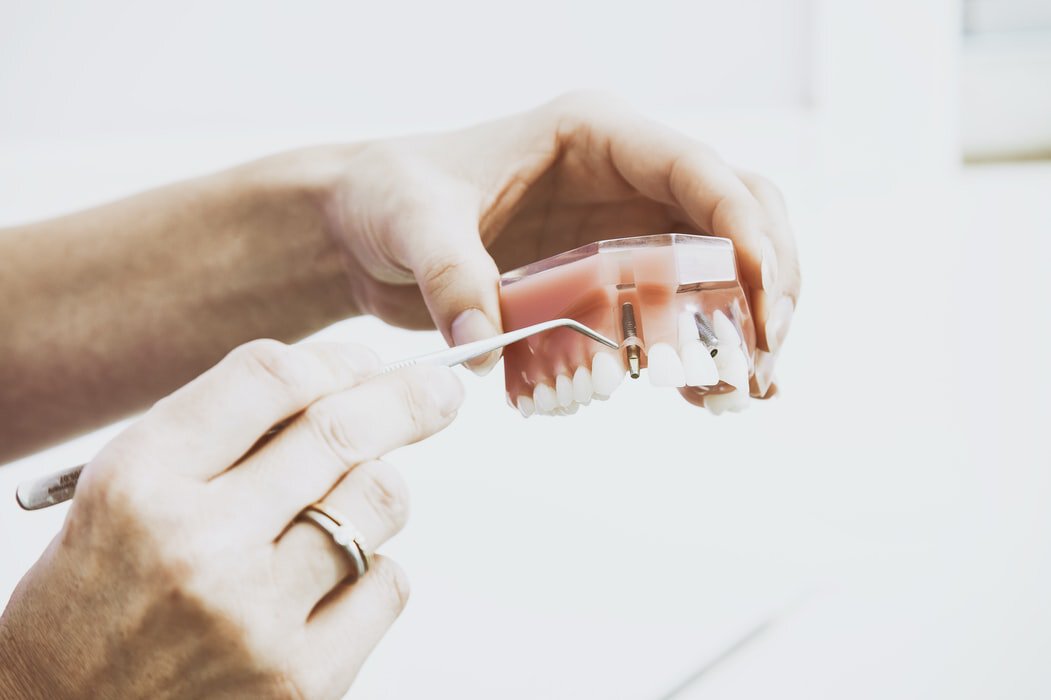 Dr. Paulo Malo and the All on 4® Technique
Dr. Paulo Malo hails from Portugal and studied dental medicine throughout the late 1980s and early 1990s. Dr. Malo and a team of clinical and medical researchers started to create the All on 4 technique, which allowed dental implants to be used on individuals who had sufficient bone loss. Shortly thereafter, he opened the Malo Clinic in Portugal, where he performed numerous procedures on patients who needed dental implants. As a result of his strides, many dentists and surgeons, including Dr. Eddie Siman, incorporated the All on 4® technique in their practices. Dr. Eddie Siman himself traveled to Portugal for hands-on training by Dr. Malo.
Teeth Damage
You want to maintain your smile at all times, and you want to show your teeth when you're beaming. Yet, damaged teeth can impact your confidence and self-view – and can have adverse effects on the health of your jaw and mouth. Don't let damaged teeth take control of your life, especially not when there are multiple options to fix them.
Teeth may get damaged for a number of reasons, including:
• Blunt force trauma, such as strikes to the head, car crashes, bicycle accidents, and falls
• Bruxism, or excessive grinding of the teeth
• Overly clenching the jaw
• Participating in sports, like boxing, basketball, or football, without a mouthguard
• Nail biting, or chewing on hard objects, especially for children
• Botched dental surgeries for cavities, crowns, fillings, or root canals
In some cases, the teeth may be knocked out or damaged to the point that they need to be pulled. Rather than living with gaps in your smile, you can instead choose to get replacement teeth. There are numerous options to repair or deal with tooth damage, including veneers, dentures, bridges, and implants. The All on 4® dental implants are one such option.
What is the benefit of implants over dentures, bridges, or veneers?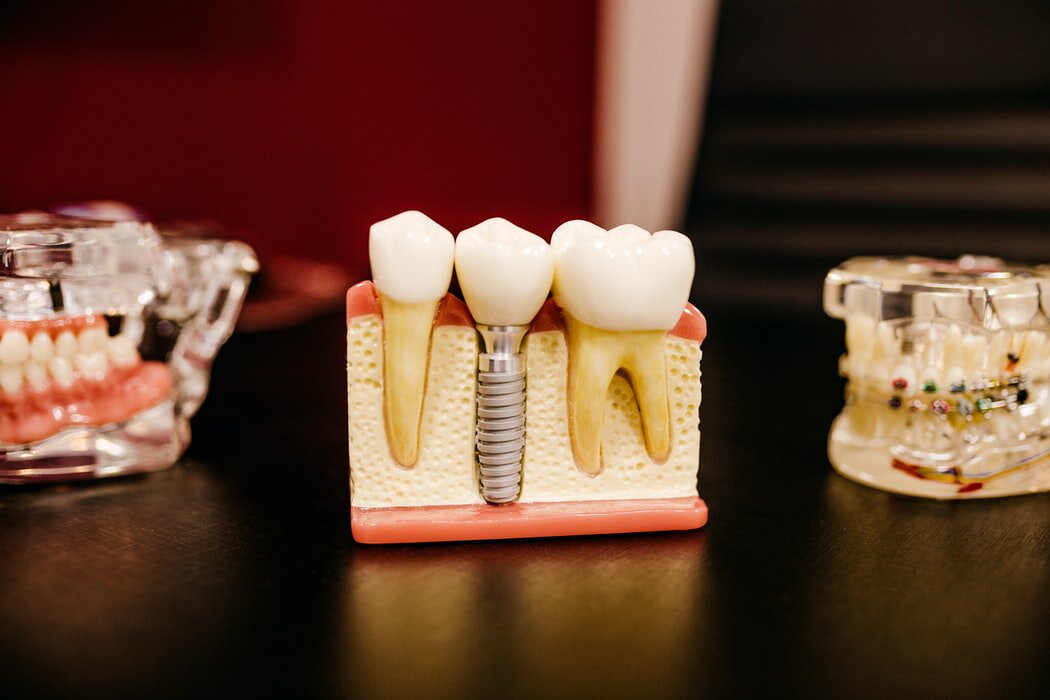 How dental implant screws hold teeth in place. Photo by Jonathan Borba on Unsplash.
Dentures are false, removable, replacement teeth. They can be used to partially or fully replace teeth, depending on how many teeth have been lost or removed. The apparatuses must be rinsed and brushed daily just as you would clean normal teeth. You should soak the dentures in water or a solution after each use and rinse them before reinsertion. It is also important to thoroughly clean your mouth when you take the dentures out.
Bridges are small sets of artificial teeth that are held in place thanks to the other healthy teeth in your mouth. They do not require surgery, bone grafting, or any invasive procedure; a dentist will merely fit the porcelain or plastic bridge over your teeth. The entire process may only take two weeks or two or three visits to your dentist.
Veneers are coverings placed over teeth that have been damaged, cracked, stained, or chipped. They are generally made of porcelain or resin, but they are not resistant to damage or loosening. In fact, over time, veneers may detach; this is exacerbated if an individual constantly grinds his teeth or clenches his jaw. You wouldn't choose veneers in instances of missing teeth, however.
Implants permanently allow you to have a full set of natural-looking teeth that are easy to maintain. While dentures may come loose during speech or during a meal, leading to embarrassing or awkward moments, implants are fully secured thanks to the titanium screws inserted into the jaw.
In the event multiple, consecutive teeth are damaged, it may be a good idea to look into the costs and benefits of implants. A single lost tooth may only require one implant, while a healthy tooth that was only cracked may simply need nothing more than a veneer. You can contact Dr. Eddie Siman to determine the best course of action for your teeth and your smile.
Why Get All on 4® Dental Implants?
There are numerous benefits to choosing All on 4 Dental Implants. The procedure is largely painless and does not require an extensive surgery like some other dental options. The costs are also lower when compared to custom-made dentures, numerous implants, and special bridges. Here some of the biggest draws of the All on 4® Dental Implant procedure:
• Fewer implants: Often, arches need anywhere between 6 and 10 implanted anchors to affix the bridge to the jaw. With only 4 implants inserted into the jaw, the surgery and subsequent healing process are both much quicker than alternatives.
• No bone transplants: Dental implants usually require bone transplants or bone grafting to strengthen the jawbone to create a stronger base for the new teeth. This is not the case with All on 4® Implants due to the 45-degree angle of the rear screws.
• Time saving: It may take months before conventional implants can support teeth, but All on 4® allows you to have a fully functioning arch or set of arches in a single appointment.
• Cost-effective: The high cost of implants is usually due to the number of screws inserted into the jaw, the bone grafting procedure, the number of visits to the clinic, and more. With a small number of screws and a single-day surgery (often not lasting for more than five or six hours, during which time you'll be sedated), you save a wealth of money on the procedure.
• Permanent solution: If you choose All on 4®, you'll never have to worry about dentures falling out or slipping out of place. You won't have to fret about wearing down veneers. You won't have to stress about replacing bridges after a few years. All on 4® implants are securely affixed to the jaw, will retain a natural look with basic maintenance, and can last 15 years or more with proper care.
The standard troubles that are present with dentures are not applicable to implants. There is no need to remove them and rinse them, nor is there a chance for them to get lost, misplaced, stolen, or externally damaged. Many have reported how earthquakes, pesky pets, and unstable surfaces have caused containers with dentures to fall, leading to damage to the apparatuses. Implants are free from such risks and can give you better peace of mind overall.
How does the All on 4® Technique work?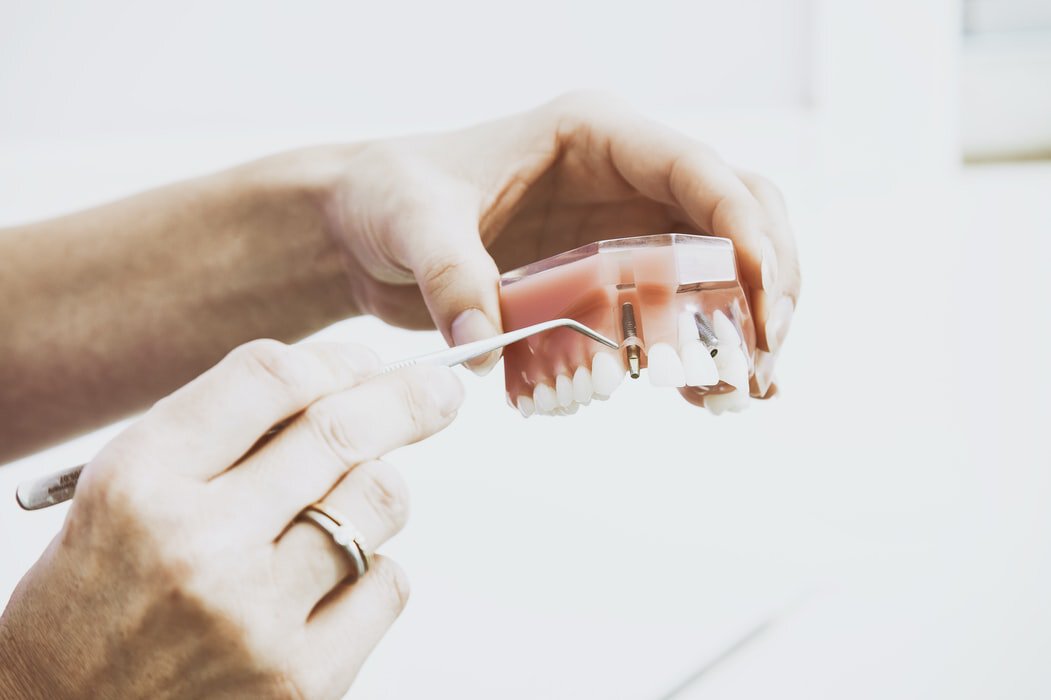 The unique angle of dental screws used in the All on 4 technique. Photo by Peter Kasprzyk on Unsplash.
In the time leading up to the procedure, your meetings with Dr. Siman will consist of checkups and monitoring. The day of the procedure will require you to be administered anesthesia, both local and general. Local anesthesia will numb your mouth and prevent you from feeling any pain during the surgery, while general anesthesia will put you to sleep until the procedure is complete.
The time required for the surgery will vary depending on a number of factors; one such reason is the presence of other teeth. The remaining teeth, which may be unhealthy or damaged, will need to be pulled. Some gum tissue will be removed, if necessary.
The titanium screws will then be inserted in the appropriate locations in the front and back of the mouth at their necessary angles. The angles of the screws are what make the All on 4® dental implants unique, as two of the screws will sit at a 45-degree angle to allow an equal distribution of force and stability.
Upon insertion of the screws, the arches will be ready to be placed and secured into your mouth. The entire system will quickly bond to your jaw bone, allowing a fast recovery. You'll be fully functional in a few days, and the healing process will be complete in about 3 to 6 months.
After the procedure, you should schedule regular check-ups to ensure there are no unforeseen issues, infections, or other bumps. You'll be completely cleared to enjoy your new smile and healthy mouth in no time.
Flash Your New Smile
Dr. Eddie Siman has over 30 years of experience in the dental field. If you're considering the All on 4® dental implant procedure, give our office a call to set up a consultation and learn more about the technique. You can ask us any questions you want and we'll give you an overview and what you can expect with the procedure. We've served hundreds of patients over the years, and we know how important your smile is to you.
Contact us today for more information on the All on 4® technique and to get all the details you need about dental implants.